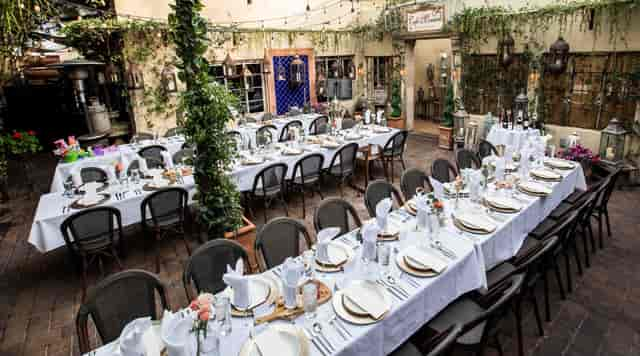 Candelas
Event Dining
*Cafe Monarch's Former Location*


50 seated in courtyard
Our outdoor courtyard, located directly across the street from Cafe Monarch, is the ultimate oasis under the Arizona sky. Footsteps from the Valley Ho Hotel, your guests will feel as if they are transported to somewhere in Europe. The area is low lite, enclosed with jasmine vines filling each wall. Palm trees, water fountains, and hanging lanterns adorn this secluded space, no detail is overlooked. It is completely private and has space for A/V components. The included indoor area is perfect for cocktail receptions. Perfect for special celebrations or private business functions. It includes a retractable awning, misters and space heaters. The buyout is the entire venue including both indoor and outdoor spaces.


*For this space we require a minimum amount to be spent on food and beverage before gratuity and taxes.